Tag Archive for 'Transhumanismus'
Ein Artikel bei Telepolis beschäftigt sich mit ethischen und politischen Implikationen von Implantaten und menschlicher Optimierung.
Erstaunlicher weiße reagiert die Politik auf EU Ebene recht schnell und hat eine Kommission gegründet. Diese soll legale und ethische Grenzen von Implantaten ausloten.
Für mich klingt dass nach Inquisition aufgrund von Technik- und Fortschrittsfeindlichkeit. Die ethische Unflexibilität der politisch Verantwortlichen auf dem Gebiet der Bio-, und diesem Fall der Implantattechnologie, ist frustrierend.
Links extern:
TP: Elektro-Psycho-Doping oder Gliedmaßen à la Terminator
Professoren Klaus-Robert Müller und sein Team vom Fraunhofer-Instituts für Rechnerarchitektur und Softwaretechnik arbeiten der Computer-Hirn-Schnittstelle und zeigen ihre Arbeit auf der diesjährigen CeBIT. Über 128 Elektroden, die Gehirnströme messen, kann man z. B. eine Cursor nach links oder recht bewegen.
Das Thema, Computer-Hirn-Schnittstelle, finde ich sehr interessant, aber ich vermisse doch den Fortschritt.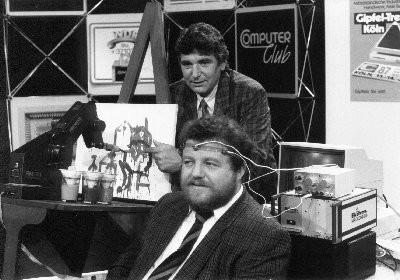 Links extern:
heise online – CeBIT special – Kraft der Gedanken: Fraunhofer demonstriert mentales Interface
Berlin Brain Computer Interface BBCI
Aus der Sicht der Evolution spielt Sex die Rolle einer umsichtigen Reinigungskraft, die geschickt die Gene in Ordnung hält und schädliche Mutationen gewissenhaft aussortiert. Denn wenn sexuelle Arten zur asexuellen Reproduktion übergehen, sammeln sich in ihrem Genom schneller nachteilige Mutationen an. Am Beispiel von Daphnia pulex, dem Wasserfloh, konnten Forscher das erstmals empirisch beobachten.
Links extern:
TP: Sex hält die Gene sauber
Der Demos Verlag hat ein Buch mit dem Titel "Better Humans? The politics of human enhancement and life extension," unter Open access Lizenz veröffentlicht:
Aus der Buchbeschreibung:
We all share a desire for self-improvement.Whether through education, work, parenthood or adhering to religious or ethical codes, each of us seeks to become a 'better human' in a variety of ways. And for some people, more consumerist pursuits hold the key to self-improvement: working out in the gym, wearing makeup, buying new clothes, or indulging in a spot of cosmetic surgery.

But now a new set of possibilities is opening up. Advances in biotechnology, neuroscience, computing and nanotechnology mean that we are in the early stages of a period of huge technological potential. Within the next 30 years, it may become commonplace to alter the genetic make-up of our children, to insert artificial implants into our bodies, or to radically extend life expectancy.

This collection of essays by leading scientists and commentators explores the implications of human enhancement technologies and asks how citizens and policy-makers should respond.
Download the full text as a PDF (524 KB)
01 – Stronger, longer, smarter, faster – Paul Miller and James Wilsdon
02 – Is it wrong to try to improve human nature? – Arthur Caplan
03 – Welcome to a world of exponential change – Nick Bostrom
04 – The mand who wants to live forever – Paul Miller and James Wilsdon
05 – The transhumanists as tribe – Greg Klerkx
06 – Brain gain – Steven Rose
07 – The cognition-enhanced classroom – Danielle Turner and Barbara Sahakian
08 – Better by design – Sarah Franklin
09 – More life – Jon Turney
10 – Nip/Tuck nation – Decca Aitkenhead
11 – The perfect crime – Rachel Hurst
12 – The unenhanced underclass – Gregor Wolbring
13 – Does smarter mean happier? – Raj Persaud
Links extern:
Demos – Catalogue – Better Humans?
CybDem: Demos's open access book on human enhancement
Hier eine kleine Liste von Links zu den wichtigsten transhumanistischen Webseiten. Mein Favorit ist das Cyborg Democracy Blog.
Aus der Selbstbeschreibung:
A collaborative blog for technoprogressives – democratic transhumanists, nanosocialists, revolutionary singularitarians, non-anthropocentric personhood theorists, radical futurists, leftist extropians, bioutopians and biopunks, socialist-feminist cyborgs, transgenders, body modifiers, basic income advocates, world federalists, agents of the Culture and the Cassini Division, Viridians and technoGaians – transmitting a sexy, high-tech vision of a radically democratic future
Links extern:
World Transhumanist Association
Cyborg Democracy Blog
Transhumanism's Extropy Institute – Transhumanism for a better future
De:Trans – Deutsche Gesellschaft für Transhumanismus e.V.
Nanotechnology – Foresight Institute
KurzweilAI.net
Changesurfer Consulting
Immortality Institute ~ For Infinite Lifespans
Accelerating Future – Nanotechnology, Intelligence Enhancement, Artificial Intelligence, Technological Singularity
Transhumanismus und die technologische Singularität
Transhumanismus / Transhumanism
George Dvorsky veröffentlichte auf CyborgDemocracy einen Artikel zum Thema Neurohacking (unter GitS Fans auch bekannt als Ghost Hacking).
Zwar ist Neurohacking, also das Eindringen in und Manipulation von neurologische Implantate, zurzeit noch reine Fiktion, dennoch sollten sich die Entwickler von Neuroimplantaten frühzeitig und umfangreich mit dem Thema Sicherheit befassen.
Links extern:
CybDem: Future terror: neurohacking